Kollektion
Rubie
by
MurkenHansen
Rubie Lounge Couch 1650
Part of the Rubie family
Design by MurkenHansen
Dimensions
820 Height
1900 Width
850 Length
420 Seat Height
1650 Seat Width
600 Armrest Height
Cover
Seat Side - Sahara, Safran
Luxury lightness
There are very few pieces of furniture out there which manage to combine a luxurious look with a relaxed, laissez-faire feel in the same way as Murken Hansen's Rubie Chair.
It was nothing more than a blanket slung over a wood chair which gave the Berlin design duo Hauke Murken and Sven Hansen the inspiration for their Rubie model – and its effect embodies this simplicity. At the same time, the strong design lines and its voluminous quilting seams give Rubie an unmistakable elegance of its very own.
Available on either a wooden or steel frame, the Rubie Lounge Couch offers this same unique combination of characteristics over a breadth of 225cm, with a custom spring system in the upper back providing a particularly high level of comfort.
Variability thanks to one-off production
Put your chair together individually. Information and advice on the individual execution of this product possible on request. Use our contact form.
Rubie Lounge Couch 1650
Cover: Sahara, Safran; Frame Variant: wooden Frame
You may also like...
Haven´t find the right thing yet? Here is a selection of products you may also like.
NEW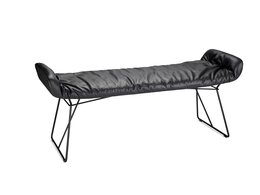 NEW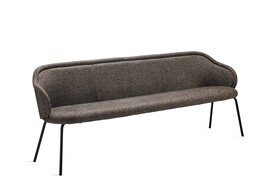 Ona Bench Curved Armrest 2020 1600
Cover: Safire, 0001; Frame Variant: steel Frame