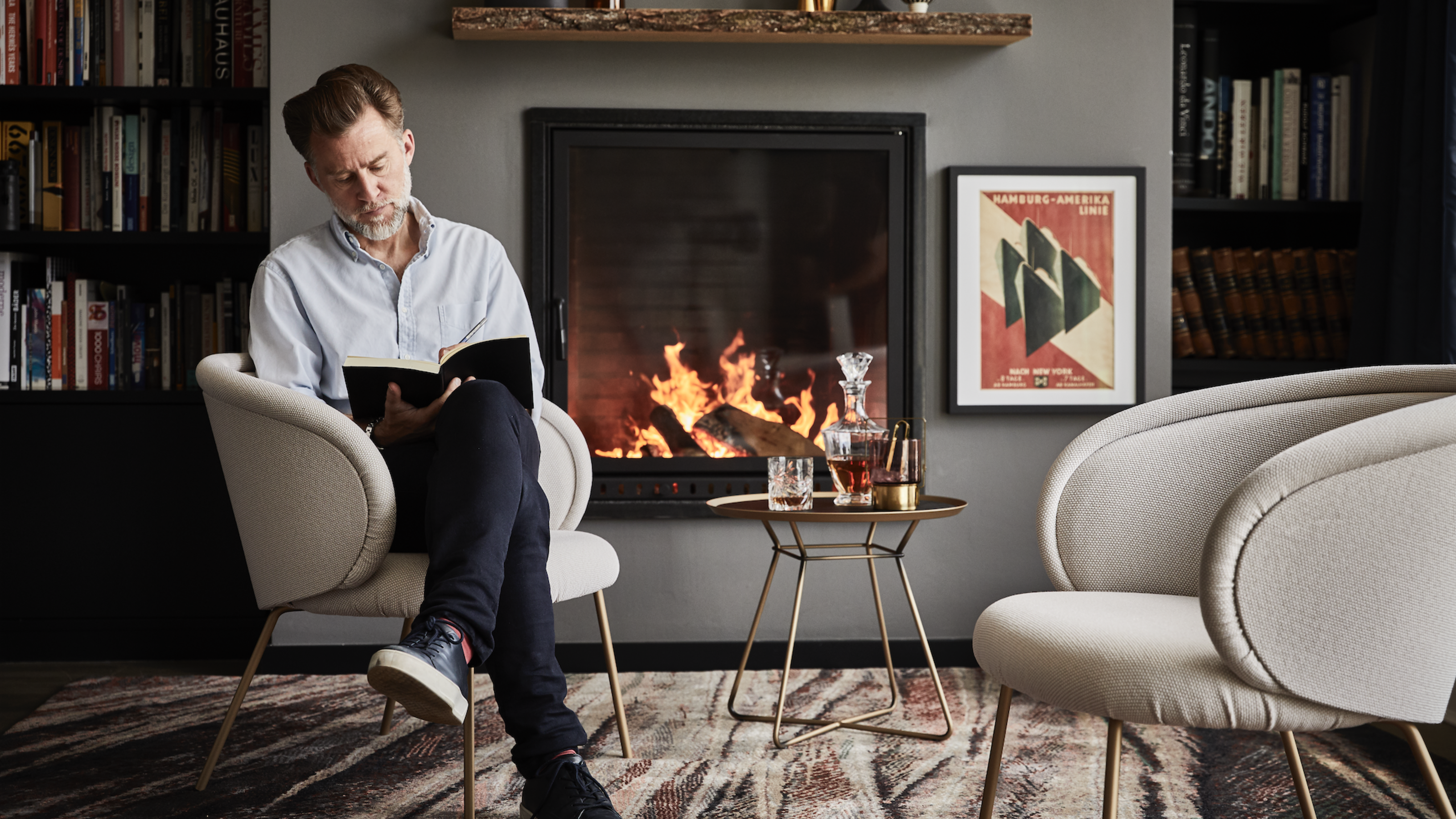 Freifrau visits Joern Kengelbach
If you're looking for someone who defines the word 'all-rounder', you could do a lot worse than Joern Kengelbach. Starting in architecture, his career has taken him into the world of media. We visited him in his Hamburg home. 
Interview
If you're looking for someone who defines the word 'all-rounder', you could do a lot worse than Joern Kengelbach. Starting in architecture, his career has taken him into the world of media, where the areas he covers are varied, ranging from luxury watches and gadgets through to top-of-the-range cars and premium interiors. He spent years writing for GQ, was the watches man for German nationwide daily Die Welt, and had several roles as editor-in-chief for well-known lifestyle magazines. We meet Jörn in his Hamburg apartment for a very personal exchange about life, living, views, and nothing less than the big questions of our time.
Freifrau: Jörn, you have made a name for yourself as an editor-in-chief of a variety of magazines about interior design and luxury goods, but not many people know that you are actually a qualified architect. What, in your view, is the essence of good design?
Joern Kengelbach: May I be somewhat crude in answering this question? For me, the most important gauge of whether interior design is good or not is your bum! Why? Because you can go into some of the world's most beautiful apartments, but when you park your posterior on a couch that is just a couple of inches too deep, it won't feel quite right. That is something you can't see on professional publicity photos. So skilful presentation can turn a lot of things into "good design", but you only really know how good it is when you use it.
You live in a maisonette penthouse in Hamburg city centre. How did you find it – and was penthouse living something you always dreamed of?
Quite frankly, my impression is that this flat is only here because urban planners stipulated it should be. There are all sorts of regulations affecting planning permission, and so even in areas like this which is almost exclusively used for offices and retail, a minimum of 20% of the space has to be residential. So what do developers do when faced with this kind of zoning constraint? That's right: they stick flats in there and let them out at top rate to high-earning singles – lawyers, bankers, etc. These flats are not made to be lived in for long periods of time, though, and are designed accordingly. So you get this lovely open-plan kitchen which runs into a gigantic living room – but leaves you asking how you're supposed to furnish the space! That's where, interestingly enough, Freifrau was the key for me that finally solved the puzzle: Freifrau furniture can handle any space. I've got Freifrau barstools at the kitchen counter, for instance, and can sit there working as if I were at a desk; or I can read a book, watch Netflix, serve guests drinks... It's a balanced blend of functionality, comfort, and aesthetics.
You're an architect and a journalist; you were born on the North Sea coast. When he's at home, who is Jörn Kengelbach?
When I'm at home? I'm the same person as I am at work, only worse! That means that I'm an ultra-perfectionist, and of course that means that, when it comes to interior design, there is never a point where everything is perfect. It's only ever "almost perfect". The fact that a I travel a lot means that I've become something of a nomad, too, so a part of me says "Where I hang my hat is my home" – i.e. hotel rooms. The principle there is that you get a room which is perfect and can use it for a set period of time before you pack your things and move onto the next perfect room. That has not been entirely without effect on the way I design my own space, of course. As you may have noticed, hotel rooms are usually not painted white, and I'm now at the point where I simply cannot stand plain white walls – I need at least one coloured feature wall, or one darker wall if nothing else, to tone down the distracting brightness. Where I'm different to most perfectionists is that I'm not adhering to one particular style, but rather am trying to work out who I am through living, by looking at the way I live.
Let's imagine some point in the future where a having "a home" in the traditional sense is no longer standard practice or considered necessary: how would you keep the feeling of being "at home".
My belief is that "at home" is something that is expressed differently at different places by how you live. In that way, it's similar to friendship: you behave one way with some people, another way with others, but you're still the same person. There's nothing wrong with that, either, because it's just a part of who we are: human coexistence is predicated on individual conduct, not on strict principles.
In architecture, there's the very useful concept of genius loci – "the spirit of the place" in English. It's about capturing the essence of a location, and that is an approach which you can transfer to family and friends: my friends in Munich are different to my friends in Hamburg, for instance, and that creates a wholly different climate. This flexibility is what we are talking about here. I personally am convinced that a hotel room might well become the standard form of living – but people can't imagine that ever being the case, not even in 100 years, just as they couldn't imagine ever sharing cars only 20 years ago. If you look at how property prices are going up, though, and the increasing shortage of residential space in our town cities, I'm convinced that shared homes and short-term rentals will be absolutely standard, or at least normal enough to not be generally accepted – probably within the next 20 years. That will, of course, have a considerable effect on how we furnish these new temporary home spaces; interiors, too, will become 'shared property' of a kind, yet will make us feel at home by being well executed and suited to our needs.
Let's come back to your apartment here in Hamburg: what is the genius loci here?
My apartment in Hamburg is subtle in style and inspired by water: Hamburg is, after all, a port city and that set me daydreaming – despite the obvious fact that, apart from the Alster lake in the centre and down at the harbour, said water is seldom visible.
An important part of things for me was knowing that I live close to the sea, even if I can't actually see it. So it was important for me to weave water into my room design in a way that helps me break out of this sea of stone. There's that old saying that Hamburg has "swans and cranes" (in German, there is no pun on cranes as birds and cranes on harbour quays!), and that sums up the dichotomy between those who want the more genteel side of Hamburg's water – the swans – and those who are more attracted to its industrial bustle – the cranes.
In my apartment, I've tried to bring in both sides of Hamburg's water. That means working with colours, natural coverings play a big role in how I choose art and accessories for my space. If you take time to analyse your surroundings, you can harmonise contrasts as I've done with maritime and urban features.
You own property in Munich, but rent your home here in Hamburg. In your opinion, how much time and money is it reasonable to invest in a rental space?
When I move in somewhere, I always put my hand in my pocket and try to make the most out of the space – regardless of whether I am going into a rental or buying. I mean: how long do you want to spend living in a provisional space? One year quickly turns into two, two turn into five and then, before you know it, you've been there for a decade and have spent ten years saying "At some point, I'll do xyz..."
So in my view, as long as you have the financial resources required, I would always advise against buying stopgap furniture. When it comes to furnishing, the best strategy is to be sustainable: and I don't necessarily mean being ecologically sustainable, rather I'm referring to the value and durability of what you buy. After all, what's the worst that can happen? You end up with a collection of great furniture in which you love and appreciate every piece – and which you just take with you wherever you go and, eventually, pass on to the next generation.
Where do you most like to work when you are at home?
I can give you a very definite answer here: I like working best in my bedroom! When its about working at home, people have a tendency to just stick their desk wherever they can because "really, I don't actually work that much at home". If you ask me, though, I'm with Hugh Hefner on this one: he never really got out of his bed – and not just because it was full of women, but because he had himself a huge, round bed made as a workspace.
What is it about the bed? The bed is where we are automatically relaxed; we lose tension and adopt a resting position. Moreover, I think there is something important about how we view work in and of itself. If you are passionate about what you do, then, in my view, your bed is the perfect place to be effective and creative in your work.
When you have a dinner party, where does it end up?
In the kitchen, of course, like with most people! My new Freifrau armchairs and barstools are conclusive proof of the fact that, while the classic sitting room has had its day, the kitchen is alive and well.
Psychologists have demonstrated that, as soon as we sit down on low-slung furniture, we start to feel tired; people's attention spans shorten, they find it harder to concentrate, they become sleepy... So especially if you have guests joining you after a long day at work, letting them sit too low is the best way to kill of sociability.
A raised communication platform, on the other hand, standing up and being able to walk past people, creates interaction and keeps you, quite literally, on your toes. The philosopher Aristotle used to tell his students that he got his best ideas while walking, and nothing has changed in the intervening millennia. That's why barstools which work as chairs in the kitchen are currently en vogue – and that's a good thing.
One thing that's unusual for an apartment in a building full of offices is that you have a fireplace. How often do you light a fire?
I've really got into the habit, actually. Having a wood-burning stove in the flat is an eye-catching feature; it's just beautiful. When I moved in, there was no glass covering, though, so when I lit it I almost fumigated myself out of the flat...! Fortunately, I was able to get a door fitted relatively fast and since then, I've been using it a lot – I mean, really, a lot. Why would you have a fireplace that you can't actually light, just to show off? People do have that kind of thing fitted, though, and I think what it shows is the psychological importance of a hearth in the home. When I put the fire on in the evenings, that's it – there's nothing else left to do. From then on in, it's all about relaxing. So when guests come round "just for a glass of wine", I've noted that the fire tends to turn that glass into an entire evening. The fire is the best show out there!
How do you see the future of interior design?
Given the seismic momentum coming from changes to how we live, the decline of classic families, and the sustained rises in prices for residential space, I think we are headed for an age of extremes. In the mainstream, I think we will see a new minimalism akin to that of the 1990s; spaces will become multifunctional, just like in Japanese mega-cities, where the most important thing is versatility – and these rooms will, in terms of media and connectivity, be able to do far more than whatever it is your smart TV can currently handle. I also think we will see some genuinely innovative solutions: there will be toilets that can be slid away under wash hand basins and all sorts of other weird and wonderful space-saving developments. And everything will be 100% optimised for the highest levels of efficiency – meaning that it will need a lot of design work; at the same time, we will be in a time of customised living in which each element of your personality will find expression in your own four walls. In Freifrau designs, I see a lot of skilful atavisms, taking traditional elements and bringing them into this ultramodern age. It will be about bringing craftsmanship and innovative technology together: when these two meet and work hand in hand, tomorrow's classics will be born.
Thanks for talking to us, Joern!
It was my pleasure. Now, if you don't mind, I'll just get back to my all-rounder kitchen counter and that book I was reading...