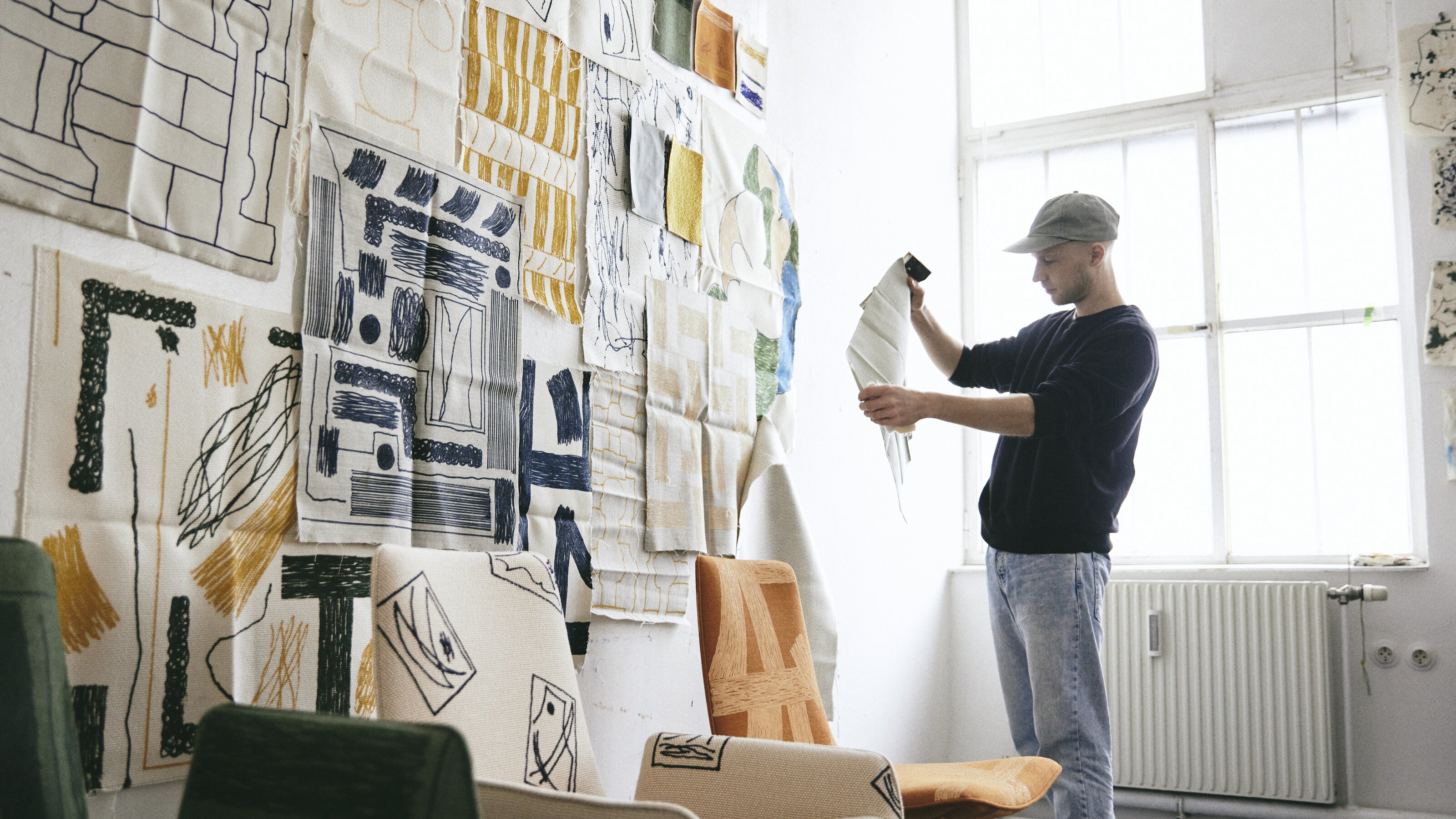 FREIFRAU x MAX FREUND
Once again our model Amelie has been transformed into a piece of art The Viennese artist Max Freund about his very own way of living and the process of transferring his art to a piece of seating furniture.
INTERVIEW
Max Freund lives and works as an artist in Vienna and studied under Judith Eislerat the University of Applied Arts Vienna between 2011 and 2017. He himself describes his art as a rotation between drawing, painting and an interest in printing techniques. His favourite painting base is fabric – in all its facets. The collaboration between the artist and Freifrau Manufaktur represents wonderfully coordinated forces that have once again transformed the Amelie model into a work of art, without compromising its function. We spoke to the artist about the process of applying his art to chairs and about his personal sense of home.
Freifrau: Max, it was Katharina Herold from Heroldian Art Concepts who acquainted us with your art, which was a collection of very large-format, fabric pieces. But for our collaboration, you didn't have a large canvas surface in front of you, but rather three of our Amelie chairs that served as your canvas. What was that like for you?
Max Freund: I was really excited about the project. What readers don't know is that we had to delay the project due to the coronavirus, which means I had to be patient for fifinal implementation, even though the preparations had already been completed long ago. But I found that part to be interesting, too. I generally try to complete projects in one go, so that it doesn't stray too far from the original idea. But when I was able to start a year later, I didn't want to change anything about the concept, which was a pleasant surprise.
It sounds like you had a good idea of your art on an object – our Amelie – from the very beginning. But before we get started and discuss your wonderful pieces, we have a few questions about you and your career. What brought you to art?
It's not like there was a specifific point in time that I realised I wanted to be an artist. It was more about the fact that I'd always enjoyed drawing, painting and experimenting with all sorts of things.

And then you studied art?
Just before I completed my A levels, I realised that I really wanted to delve deeper into my interest and made the decision to study painting. There was no plan B, either.

How did that influence the development of your art?
I think it made my art more diverse and concrete.
Has your true passion always been drawing?
Yes! Drawing was very important back then and still is to this day. That's something you can see in my work – I like it when people translate drawings, lines or graphic elements into paint.

You often work on suspended canvases that are not stretched on a frame. Why is that?
I like that the material has a very different, sometimes non-existent tension. We then view the material and the subject differently. Folds, light and shadow combine to create an active element. The painting joins with the material organically and doesn't try to dominate it as it would a stretched canvas.
What was the process of transporting your art to our furniture like for you? You chose our Amelie model, which is very firmly upholstered.
Transporting my ideas and drawings to your furniture was a really interesting experience for me. Especially because I was able to experiment with your fabrics in the preparation phase. The fact that the fabric is stretched firmly over the chairs didn't really make any difference to me.

At the beginning, you said that your concept was ready a year before you received the chairs. How did you prepare 'back then' and what was ultimately your approach?
As I often do in my work process, I began with a drawing. I look through my collection of old sketches and expand them or add something entirely new. It didn't take me very long to realise what the chairs would look like. Throughout the process, I always thought about maintaining the function of the object, so that it would continue to serve its purpose. But still, I wanted to work with oil paints rather than acrylic or fabric paints, which is probably more unusual for fabric upholstery. Oil offers wonderful brightness and application. I stuck with that idea because I had the freedom to and there were no limitations set on your end. When you see the finished chair in front of you now and can touch it, you notice the difference.

So you can actually sit on the oil paint without rubbing it off?
Yes, you can. I applied a very flat layer of paint to the chair. Even though the fibres have absorbed it entirely, you can still feel the paint. At first glance, it appears to be a printed fabric, which is an interesting illusion because it's actually painted and each chair is unique.

During the process, did you ever think about the homely context in which you'd like to see the chairs?
Not really. But I always see similarities in the reality of a canvas and, for example, a table. When you live with them, they become your friends. They accompany you in daily life – in this case, at home. I have a great passion for chairs and stools and now have so many in my collection that I can hardly find a place to put them or even use them. And still, I just can't get enough of them. They also go from my living room to the exhibition space and are occasionally used in my installations. Chairs are exciting objects. The act of sitting down or even just the thought of a chair reminds us of relaxation, reflection, working and eating.
How would you explain your style of interior design?
I live with my girlfriend in a 60 m2 flat, and we're constantly making small changes, which we love to do. We have lots of lamps and furniture, some from the 60s and in muted colours. Plus a lot of pieces by friends and lots of plants. Unfortunately, I love to collect things, from books and objects to chairs. Everything's transformed into a small altar in our flat, even the fruit bowl. And somehow we still manage to live a minimalist life – we rearrange things or get rid of things every few months.

What does it mean for you to be home?
I have a real passion for collecting. Sometimes it can be overwhelming, even though I enjoy it and (fortunately) have learned to be more selective over the years. All these things form the foundation of my work, but also accompany me on a daily basis. That can sometimes be a strange, but wonderful, fluctuation between life and work. For example, books, fabrics and glasses. But when it comes to pictures and pieces of furniture in particular, I think it's easy to tell whether you feel at home or not.

Is there one book in particular that you prefer over others? And if so, why?
That's not a simple question to answer. It's usually the book I'm reading or looking at. Right now, I'd say it's an old art textbook from the 80s with lots of watercolours and children's drawings. The text isn't all that interesting, but I'm fascinated by all the printed pictures, the colours and the direct access.

What does art mean to you in everyday life?
It's a continuous feeling that accompanies me when I get up, when I work and when I'm having dinner. It's the things that surround us and the thoughts inside of us.

You selected Amelie for your series – with a high and low armrest and without any armrests at all. The series almost feels like a triptych.
Defifinitely. Even as I was drawing, I realised it would be great to create a coherent series. The fact that there are three different variants of the Amelie chair was a stroke of luck for me. Each of the chairs has a different look and feel about it. The orange one is quite warm, the green one rather cool, which in my imagination was the result of lighting. The three chairs are, so to speak, a seasonal transition from spring to autumn.

Max, working with you has been a great honour for us.
Thank you for that andfor this interview!