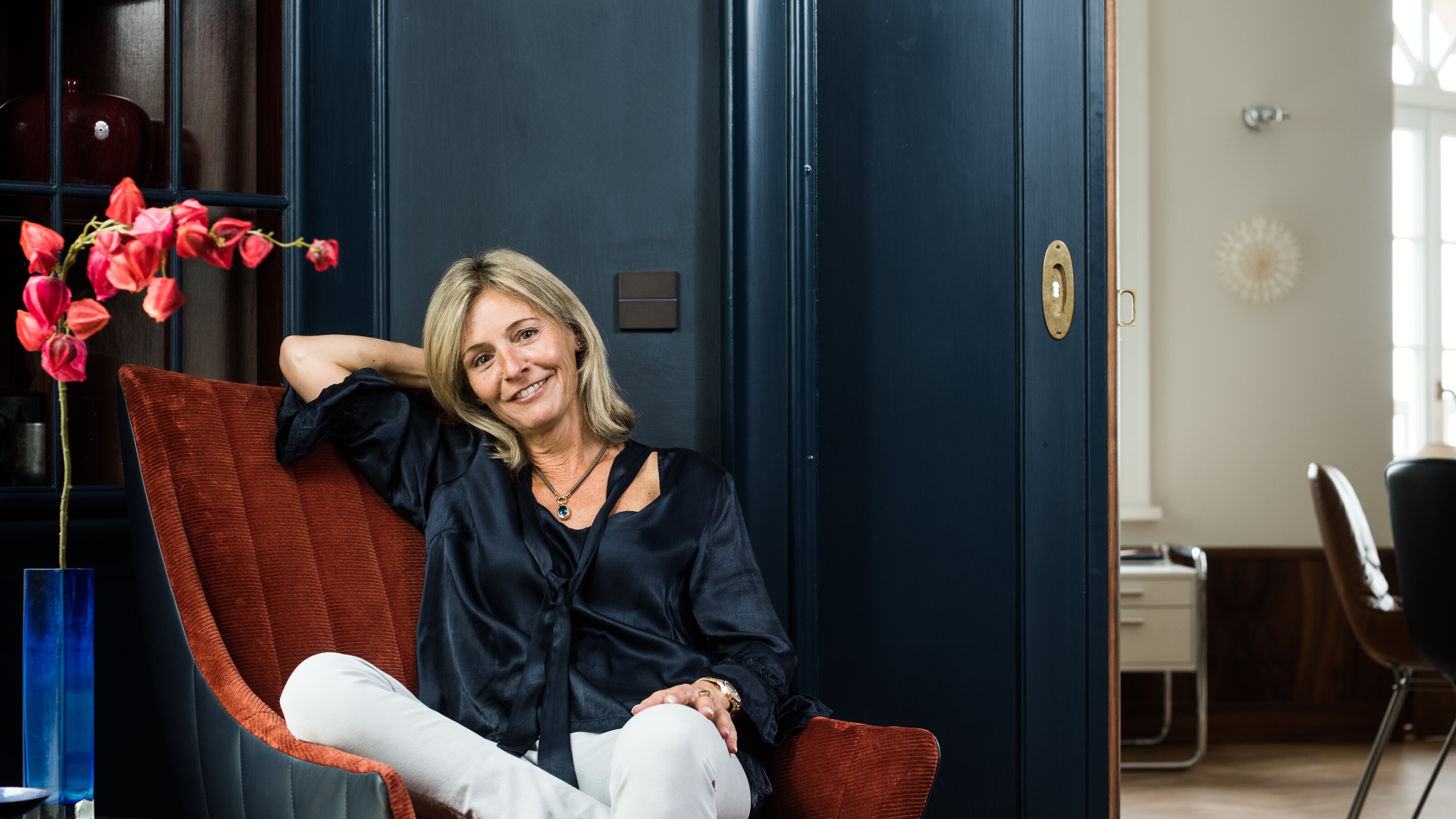 Take a seat with Ines Van Meenen 
Ines Van Meenen lives in Blankenese, a picturesque and highly desirable suburb of Hamburg, in a villa overlooking the River Elbe from a hillside park. Built in 1924, the listed building has been lovingly restored to its former glory by Ines Van Meenen herself, an interior design professional, and architects Beate Kirsch and Anja Bremer.
Interview
No detail was too small for the trio, and Van Meenen is always happy to explain the specifics of the building's history and architecture to visitors – either as part of organised tours or, in this case, in our series of interviews. As soon as she opens her front door, Ines Van Meenen's warm and unpretentious manner makes us feel welcome before we've even set foot in the house.
It is also visible in the interest which she has taken in these historic rooms, finding out about every last detail and why it is there. At the beginning of the renovation, for instance, she lay down on the living room floor and examined the minimalist forms of the ceiling stucco, trying to understand precisely why the architect of the villa took an approach to plaster decoration so fundamentally different from the fashion at the time.
Having being authorised to build 10 houses in Blankenese's Baurs Park in the early years of the twentieth century, the architect decided to erect his own summer residence on the best plot of land with the most attractive view. It is that residence in which the Van Meenens now live.
Dear Ines, thank you for allowing us to look around your home. With this villa, you took on an ambitious project: renovating a listed building. What attracted you to the challenge?
It was absolutely fascinating! Each and every day, there was something else to take care of. We – that's myself and the two architects I worked with – learned a huge amount, probably because we wanted not just to keep as much as possible, but to restore things that had been lost while updating them for the here and now.
When we took it on, the villa was divided into lots of small rooms; we loosened it up somewhat and added a new-build. Inside, we took the walls back down to the original surfaces; outside, the historic wall rendering brings together the old and the new. The original masonry give the house a huge amount of its atmosphere.
When you and your husband first viewed the house, it must have looked entirely different. Especially in homes with lots of rooms, doors, and corridors, it can require quite a lot of imagination to see the potential. Obviously you were able to, because you bought the house. Was there anything in particular that swayed you?
When we came to view the villa, it was – as so often in Hamburg – rainy. So rainy, in fact, that we could barely see the house from affair. Inside, the building didn't really enthuse us, either, but in the end, in under 24 hours, we'd decided to buy it. There is something about the place itself, and when we stepped outside and saw the view down to the water, it was special. That's how the house cast its spell on us and why it was actually astonishingly easy to make the decision – despite the rain!
The result is really very beautiful: the effort that you put into planning the work and having it carried out is visible in every single room; everywhere you look, there's a feature that grabs your eye.
I didn't want the house to look sterile, and without me needing to force it, it developed its very own character. There's a tension in the spaces of which I am very aware, but I didn't and couldn't plan it that way. The way I see it – both personally and as a professional interior designer – the feel needs to come from the people living there. Everyone has their own unique character, and that needs to be reflected in the home they inhabit.
When I'm working on other people's homes, I never go solo. There are things that you can only know when you've actually lived in a house: the best spots, like where precisely to put a reading chair, for instance, where best to relax with a good book.
In view of everything you've put into the house, this might be difficult to answer, but we'll ask anyway: where is the core? Where does its heart beat?
If you were to ask the builders, they wouldn't need to think about it: they'd say the set of stairs up to the middle floor. It's a highlight for me, too: I set great store by craftsmanship in any case and this is a really outstanding example of it. The concrete was planked here on site from one single piece and then finished with marble powder, which was a very impressive piece of handiwork; then there is the second feature on the stairs – the stainless-steel handrail. It twists as it goes and we had to get its curvature measured by a metalworking expert. It's an absolute masterpiece of steelwork.
What we saw here was that we had commissioned our craftsmen to make things of which they were so proud that they – and I'm not exaggerating here – had tears in their eyes. They were absolutely delighted and it was a wonderful feeling. Some of them have stopped by and asked if they can show their wives and families the results! When something has got so much artistic energy and so much emotion in it, then I think it's entirely legitimate to say that that is where the heart of the house beats.
The room on the top floor with the view of the Elbe is a living room, dining room, hearth, and mini-office all in one. Freifrau chairs have taken up residence around the large round table, which is where you have meals. Tell us about this space; why did you opt for our Leya model?
When work started, we still lived down in Essen, and so I was trying to source the right furniture for the house from there. So of course I'd bought some design magazines and was having a look on the internet, too. I first came across Freifrau as a newcomer at the Cologne Interiors Show, however, and I have yet to come across another chair that is as pleasant to sit in right from the very first moment: you can even dangle a leg over the arm or sit tailor-fashion! The feel of the leather is another detail I like, as well as the sensuous shape: you can run your hands along the outside of the chair and it feels good. So I made my choice right away.
The lamp above the table was something I found on a photograph in B&B Italia; however, it was shown multi-coloured, and I could only really imagine it working in white. The manufacturer, Wästberg, was able to do that for us, though. The table, or rather the pedestal, is by Arper; the table-top is cut out of a custom-make plate. Everyone who takes a seat in this beautiful rotunda and enjoys the relaxing view of the water praises the chairs – and people have indeed sat cross-legged in them, too.
Dear Ines, it was super nice to meet you in your lovely home! Thank you for this talk!