Collection
Leya
by
Hoffmann Kahleyss Design
Leya Wingback Swingseat
Part of the Leya family
Design by Hoffmann Kahleyss Design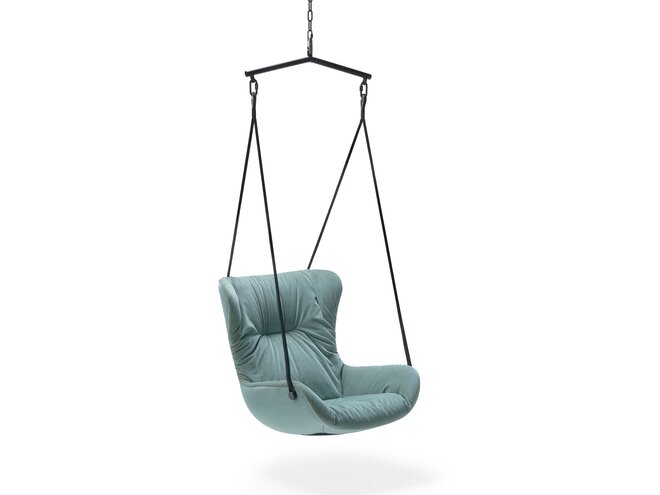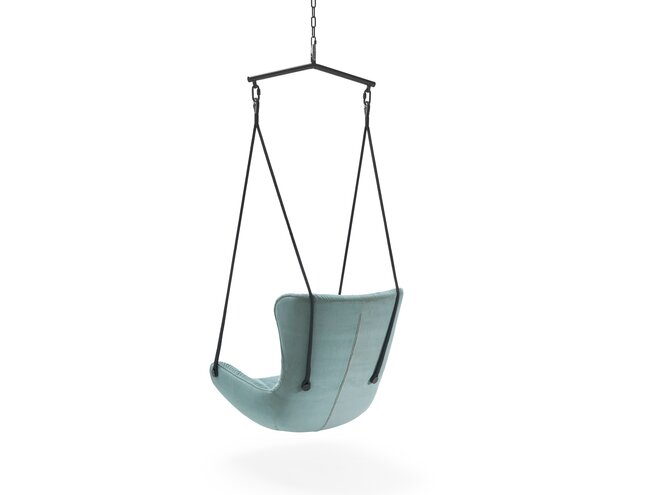 Dimensions
810 Height
700 Width
900 Length
Cover
Seat Side: Customer own material (C.O.M.)
Back Side: Kundenstoff
Chesterfield possible
Hard Shell, Soft Core
The Design-Duo `Hoffmann Kahleyss Design´ has designed a dualistic piece of furniture, as harmonious as yin and yang.
The Leya Wingback Swing Seat provides moments of weightlessness in your own four walls. The lounge chair designed by Birgit Hoffmann and Christoph Kahleyss hangs on two sturdy black ropes from the ceiling and anyone who rocks back and forth on it is overcome with almost childlike feelings of happiness. And that without sacrificing the seating comfort that is characteristic of Leya. Like all furniture in the model series, this unique design object also consists of a linear shell that is tightly upholstered on the outside and reveals a fluffy cushion on the inside. An almost sensual experience. The Wingback Swing Seat is available with various high-quality fabric and leather covers. The two retaining cables are stylishly and securely attached to the seat shell with metal eyelets and leather straps.
Technical note: Moving parts should be checked regularly by their users for signs of wear.
3D-product configurator
Make it yours! Combine materials, covers and colors according to your wishes.
You may also like...
Haven´t find the right thing yet? Here is a selection of products you may also like.