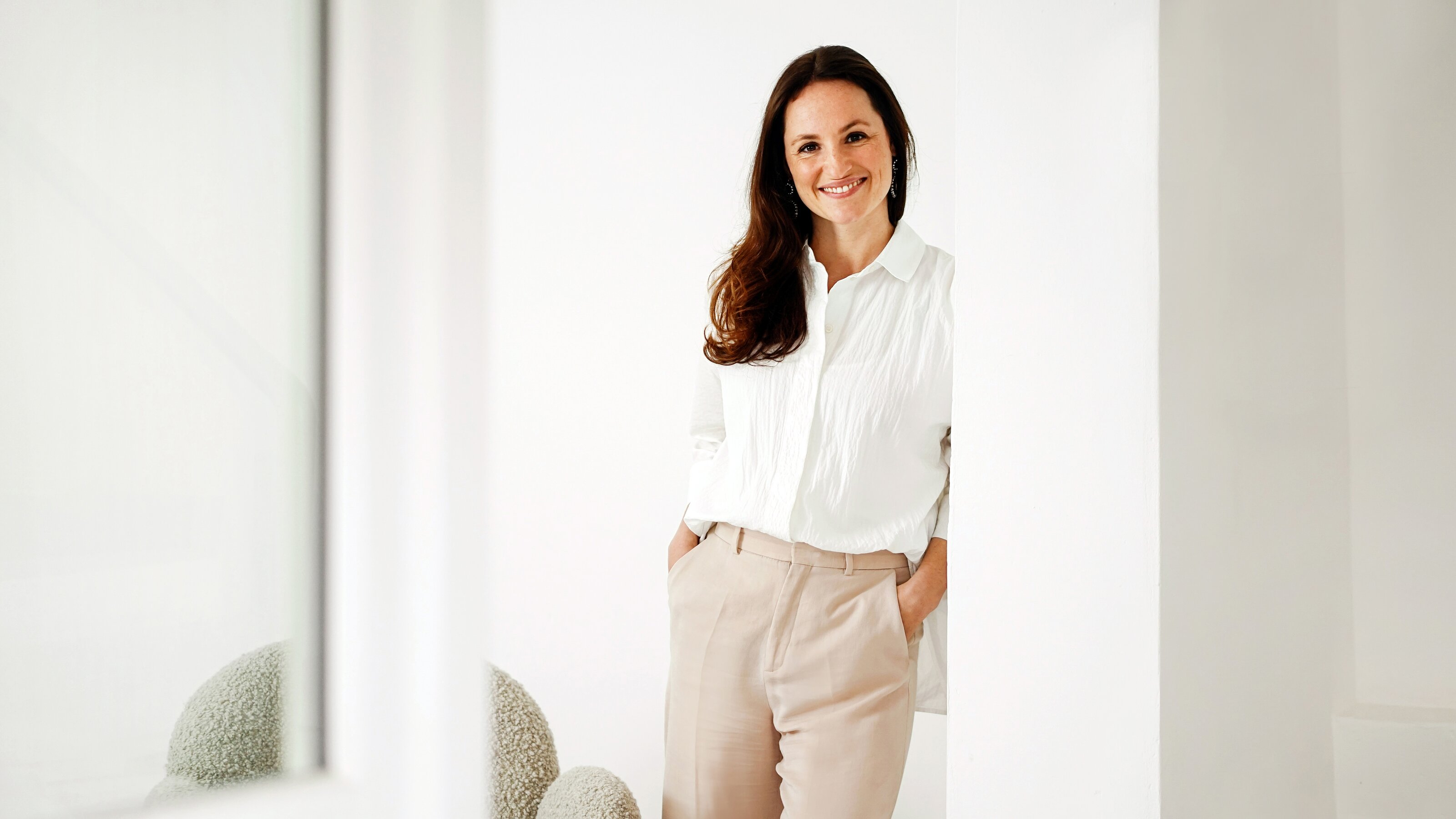 Nana by Hanne Willmann
With her design Nana, Hanna is making her debut as a designer in the Freifrau family. Her design is all about softness. Nana seems as if fine, soft clouds have formed a chair. For Hanne Willmann this is a picture that perfectly describes her design. In our interview, she tells us about her design process and her career.
INTERVIEW
Clear lines translated softly: The Nana chair is the symbiosis of inimitable softness and straightforward design language without flourishes. A chair that is to be understood as an homage to the art of furniture upholstery and, despite its voluminous look, impresses with its elegance and sophistication.
Hanne Willmann is responsible for the design, making her debut within the Freifrau design family. The Berlin-based product designer found the inspiration for the design language of Nana in soft and voluminous shapes. The maxim was to create something simple, perfect that pursues the aim of realizing a previously unknown seating quality. As if you were sitting on clouds ...
In the interview, Hanne tells us about the development process and her inspiration.
Freifrau: Dear Hanne, your CV reads like a fascinating journey around Europe. You were born and raised in northern Germany, you gained experience as a designer in Barcelona and Berlin, and you also spent some time in Istanbul. Yet you appear to have remained true to your roots, because your style is described as very Nordic. How would you yourself describe it?
Hanne Willmann: I would tend to describe it as clear and honest. Above all else, however, as collaborative, because you always work on the design in conjunction with the brand. The idea for a product naturally comes from me, but it has to be right for the manufacturer. It has to tell their story and convey their values and incorporate the manufacturing techniques. All of my works are thus a symbiosis of my vision and the brand as I see it and as the company sees it.
The style of Freifrau is rather feminine. Was that a challenge for you or did it quickly become evident to you how you were able to enrich the collection with your somewhat clearer style?
Showcasing the femininity of the Freifrau brand in my design was a wonderful challenge for me. My design is often very rectilinear and I wanted to be as soft as possible for Freifrau without moving into decorative territory. With the Nana, we have managed to create a very soft design that nonetheless features the elements that I represent. It is a symbiosis.
What must the products that you design radiate for you to regard them as a success?
Designs must be clear without being too loud. It must be obvious what they offer. The Nana offers comfort. You can see that from 100 yards away. At the same time, the form is not crude, but precisely balanced. All of its defined curves are coherent.
In general terms, what does good design mean to you?
There are many good approaches to "good design." For me personally, it is important that design is honest: sustainable, authentic materials; clear forms, nothing decorative unless it adds something. I love design when it has surprising details that are not that striking at first glance. With the Nana, for example, I find that the vertical indentations in the seat and back subtly turn these large round forms into finely defined curves.
How did you prepare for the collaboration with Freifrau?
I looked very carefully at the design history. I asked myself about the design-related and corporate values so that I was able to define what I definitely wanted to integrate and what I could rethink.
Freifrau is known for making the most comfortable seats. Wherever you go, you hear everybody raving about the comfort. At the same time, Freifrau is elegant and feminine. I wanted to incorporate all of these aspects and yet come up with something completely new for the brand.
Most people know you for your lighting designs or living accessories. You have now designed a piece of upholstered furniture for Freifrau. What do you find so special about designing upholstered furniture? To what extent do the processes differ from those of other products?
With upholstered furniture, you have to work together much more frequently on the prototype. The padding and cover simply behave differently to how you plan things. For the Nana, we must have got together five times and were constantly making our own corrections to the product. And then there is the additional "comfort" aspect. It is no accident that the Nana is so comfortable – everything was tested and modified several times until we were all 100 percent satisfied.
Your new model, the Nana, is a very voluminous piece of furniture with large soft cushions. What did you have in mind when you developed the Nana? What did you want your new model to radiate?
Softness! The Nana is probably the most comfortable chair I have ever sat on. It is as soft as floating on a cloud.
What inspired you to create the Nana?
We were thinking about soft, voluminous shapes while experimenting – like little fluffy clouds, for example. Among other things, we then tried to squash little balloons into a wide range of shapes. This led to the first approximation of the design: the back cushion. The others then gradually fell into place and the final element was the frame in which the seat shell should simply nestle.
What feeling or emotion do you wish you evoke with the Nana?
The Nana should radiate a feeling of comfort and security. When you sit in it, it should feel like home.
Products by Hanne Willmann:
Nana - a film by Jörg Zuber
Fine, soft clouds slowly form to create a chair that gently moves toward the earth. Together with Jörg Zuber from Jörg Zuber Studio, we have written and created an alternative story of the genesis of our new Nana model by Hanne Willman. The result is a surreal short film about the development of our new product Nana, which radiates inimitable softness and also invites its guests to "sit as if floating on clouds."